Hello to all Crafters...
Happy Sunday !
Vinita
here! Feeling so excited and nervous too with my very first inspirational DT post here!!!! Thank you,
Vikas Ji
, for this great opportunity!
Art & Craft was one of my favourite topics as a Kindergarten teacher and we always decorated our bulletin boards every month. It took me back to the time of my teaching job days when decorating classrooms was a big part of my work. I really enjoyed those times, working like crazy and never feeling tired :) Coming up with new ideas, themes, finding the supplies, best out of waste, making the time to do it.....
With that being said, I have been sharing different art ideas over past 3 years and I am very enthusiastic to showcase my art randomness( for now) on a much bigger scale, by sharing something new using dies, punches in a totally mind-blowing way. How one can be more creative using these dies in school activities for making bigger projects!!!
This is the first ever School Contest on an online platform all over India!!!! Isn't it amazing!!!!
Winter has just begun all over India and soon it will be so chilly! Which means this is an ideal time to decorate your Bulletin board and what better way to use "Winter Fun Theme" with Snowmen, snow covered woods, trees, Santa, Reindeers, gifts, snowflakes, Colours of blue, silver, white. festivities of Christmas too!
Welcome to all participants in this event, which will surely force you to put your creative thinking caps on!!
Take out your Sizzix Dies and get going to decorate your Winter Theme Bulletin Board!
I received some of the fabulous Sizzix dies in my kit with some papers which I have used. And when I saw the beautiful Snowflake die, lots of ideas floated in my mind- how to create the snow filled tree, how to Mr, Santa in his 3-D Reindeer sleigh, the cute snowman,
And finally, I came up with this idea!
How I did....
1.
I began with a very heavy 800 gsm white sheet which is 48"(length wise)x 36"(height wise) for my background. Scribbled some oil pastel watercolours in the same direction as shown in the pic. Then added some water using the paint brush. Let it dry. Splattered some white drops all over the sheet for snow falling effect using water brush.
For the bottom snow banks, the same method is applied as mentioned above and adhered them at the bottom of the sheet using craft glue and left the top without pasting. Then I put some fluffy polyfill cotton for the snow elements and glued them.
2.

I die cut some snowflakes out of white CS and some from wrapping papers. Adhered the wrapping paper snowflakes on the white one and created the background scene. Added some small snowflakes to fill the gap in between using craft glue and very fine blue glitter. Now the BG is ready.

For 3D ornaments, I die cut some more snowflakes out of different coloured mirror sheets. These are the steps shown in the pics:

3.

Next, for snowy evergreen winter pine tree, I die cut lot of snowflakes out of off white colour sheet and cut some pieces and fold them to create dimension, shown in the pic.

Hand drew a triangle shape tree and coloured it with green and brown colour. After drying it, added all the pieces of snowflakes to create my winter pine tree full of snowflakes pieces!!!.

4.

Next step is to work on some Winter Characters. I die cut some snowmen out of white, red, blue, green, black coloured card stock and rearranged them accordingly.

I made a huge stack of snowmen to create the magic of winter fun and they all are helping each other to decorate their winter pine tree top.

The snowflake on the top is made out of thermocol fruit tray which can easily cut by Sizzix die :) and I decorated the edges using fevicol and blue coloured glitter.

5.

The most fun part begin. I die cut some pairs of Reindeer out of textured kraft sheet using the die.

For the Santa, I die cut the image out of white CS and some red & white coloured felt too. I adhered all the pieces on my white base accordingly shown in the pic.

For the back and standing seat:

I tied up all the reindeer's using red rakhi string and pasted the end part in Santa's hand. And adhered all the characters on my sky BG.

6.

I die cut some cute tiny reindeer out of black and golden colour glittered foam sheet.

7. Winter Fun

title are created with some coloured wooden letters.

8.

And last final step was to embellish them all with some rhinestones, pearls, buttons, gifts, hanging ornaments.

Hope I inspired you with my idea and creativity!

India is filled with full of talented Teachers and crafters! So come up with all new ideas and start creating!

And submit your projects through mail at

contest@teachingaids.in This contest will continue up to 23rd of December.

So submit your projects, hurry! And for participation follow all the rules

here

.

And what is a contest without prizes! so here it is.....

There will be 3 winners and 10 consolation prizes.

•

1st Prize : 4 Xtra Large (XL) Dies worth Rs. 14,000/- plus 1 discount coupon worth Rs. 1000* to be used on www.teachingaids.in •

2nd Prize : 3 Large Dies worth Rs. 9,000/- plus 1 discount coupon worth Rs. 1000* to be used on www.teachingaids.in •

3rd Prize : 3 Std Dies worth Rs. 5,250/- plus 1 discount coupon worth Rs. 1000* to be used on www.teachingaids.in •

10 consolation prizes

of 1 discount coupon worth Rs. 1000* to be used


Looking forward to seeing all Talented craft Teachers bring forth! Best Wishes! Merry December and Merry Christmas Wishes!

Here is the supply list available at the

TeachingAids store

: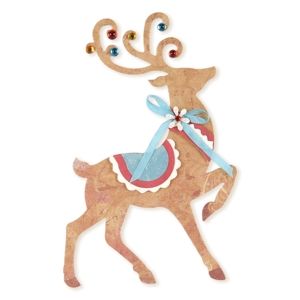 http://www.teachingaids.in/product/sizzix-bigz-die-reindeer-658738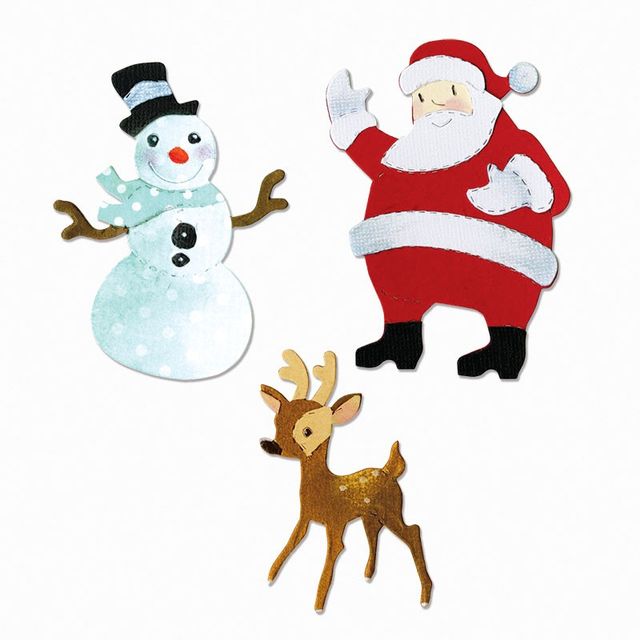 http://www.teachingaids.in/product/sizzix-bigz-die-reindeer-santa-snowman-a11011
http://www.teachingaids.in/product/sizzix-bigz-die-snowflake-3-a10690
Sizzix Big Shot Machine
- 660425
http://www.teachingaids.in/product/sizzix-big-shot-machine-only-white-gray
Other supplies used
:
Card Stocks, felt and foam sheets, glitter sheets
: White 800 gsm sheet; Cream coloured CS; Textured Kraft sheet; Green coloured handmade sheet; Golden colour sheet; white, blue, red, green, black coloured CS; Red and white coloured felt sheets; Green, blue, pink, silver, golden coloured mirror sheet; wrapping papers, Corrugated package sheet; Golden, black coloured glitter foam sheet
Pattern paper:
Plaid PP stack 12"x12" from Lawn Fawn
Stamp
embosslits
Watercolors, Paint brush
Polyfill cotton
Blue colour glitter
Wooden letters
Craft glue, fevicol, fabric glue, buttons, half pearls, rhinestones, charms, wire, twines, red thread, white and red coloured yarn
Happy crafting!!!
Happy Weekend!