Hello to all crafty peeps!
I am back again with my next Inspirational post! And I am super excited to share my new Winter Wonderland Wreath with all of you today!
Some of us have really great intentions to make handcrafted decor to adorn our home/schools/classrooms. So, to help you out, I'm sharing a wreath idea now! Super easy!
I can't stop looking at the bottle brush trees which is handmade!
I really love how these foam flowers and garden green leaves complimenting each other.
How I did......
Firstly, I started with a heavy cardboard and cut a big circle and cut it from the centre using my craft knife according to the size of the plastic plate.
Continued wrapping the wreath covered with yarn, glued the ends on the back side. I covered the top too with yarn and before covering it I created holes at the top to tie my stone string in between!
Then I distressed the edges using distress ink. And I embossed my petals and glued them on a hand cut circle to create the flower, shown in the pic. I made six sets of these flowers.
Let's get started with the plastic plate.
I coloured it with my metallic pearl colours and added different blue glitter dust to create the snow background shown in the pic. Now wrapped the edges with a white yarn and glued it on my circle centre.
I trimmed some shiny white yarn in very small pieces and adhered them at the bottom of the plate using fevicol. I die cut a cute deer out of polka dotted glitter foam sheet.
This is very easy to create bottle brush trees. Just follow these steps:
b) Cut a piece of wire or you can use toothpick too according to their heights. And insert in the middle of each yarn pieces, shown in the pic.
e) Now placed my bottle brush tree on my plate using craft glue. You can create a huge crafty forest display with this easy technique!!!
In these close-up pics, you can see the diamond glitter dust to create the snow texture on the bottle brush trees. Die cut a snowman from a white foam sheet and created a designer hat and muffler out of striped glittered foam sheet and adhered it on the snowman. How cute he is looking!!!
Then I added jingle bells string in a silver thread.
I covered the top using yarn and tied a net fabric bow and adhered a jewelled stone in the centre.
Here is the supply list available at the
TeachingAids store
: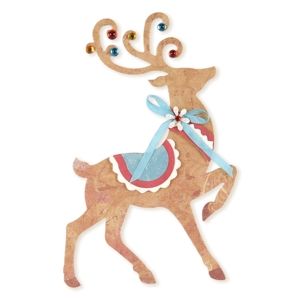 http://www.teachingaids.in/product/sizzix-bigz-die-reindeer-658738
- I used the semi-circle scalloped die for making my foam flowers!
Other Supplies used
:
Cardboard-400 gsm; Silver, blue and designer glitter sheets; white foam sheet
Embossing pad and embossing tool
Transparent plastic plate
Fevicryl Pearl metallic colours
Fabrica white colour 3D cone liner
Hot glue gun
Blue, white and mixed colourful blue yarn, fevicol, craft glue, fabric glue; glitters, diamond dust; tooth pick; wire; two-tone coloured string; blings; jewelled stones, net fabric
Will back again with more exciting news and results!!!!
Happy crafting!
Wishing you all Merry Christmas and Happy New Year 2017!!!!